A few drops of Keda liquid dye was added to color epoxy resin, to create a gorgeous, vibrant colored epoxy resin for this beautiful live edge wood slab. Coloring epoxy resin and pouring that vibrant unique wood finish in and around the voids, is a great way to fill in wood voids and live edges to create unique wood art. Mixing Keda Dye liquid into epoxy resin is an easy, beautiful way to create unique wood finishes like this. The value of this wood slab was increased significantly from adding the epoxy colors. Ben made a much better profit margin for his small business from the added custom wood color work on this project by adding the colored resin made with adding Keda liquid dye.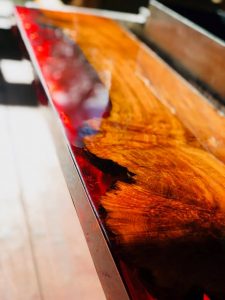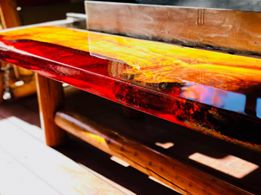 This wood finish process also works great for scroll work pieces, as well as many other creative wood projects. Keda liquid dye will even color Lacquer, Shellac, or other non oil based wood finish sealers to add another layer of unique, custom wood finishes to add just the right touch to your woodworking projects.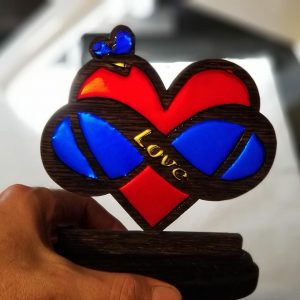 As shown in this scroll saw cut out heart, adding colored epoxy resin to your scrolling works, can really add a pop to your finished pieces. This piece used Keda liquid dye, and consisted of the: blue dye, red, and yellow dye. The red epoxy resin in this piece had 10 drops of Keda Crimson Red liquid dye added to 2.5 ounces of marine epoxy resin. The blue epoxy resin was made with 10 Drops Keda Blue Liquid Dye Added To 1.5 oz of epoxy resin. The yellow epoxy was made by adding 1 Drop of Keda Amber Yellow liquid dye To 1.0 oz of the resin. The wood framing of this scroll work was colored black using the Keda Coal black liquid dye at a ratio of 6 drops of Keda liquid black dye to 2 ounces of denatured alcohol and 2 coats of the black dye stain were applied directly to the wood surface and sealed with a polymerized boiled linseed oil. Either way, using the Keda liquid dyes to make colored epoxy resin is an easy way to add that splash of color to your wood working projects.